Inside the Design Thinking Xperiment
As a designer, design thinking is more or less business as usual. So I was interested to go along to the conclusion of the Groundswell Design Thinking Xperiment (DTX) recently. Locus teammates Kat and Michelle were coaches for the experiment, which ran for two weeks early in the morning before most of us were out of bed!
And, what I saw was exciting. Business people embracing design thinking. Feeling inspired and enthusiastic about taking their new-found design thinking skills back into the workplace. It was pretty cool.
As design thinking coaches, Kat Sutherland (KS) and Michelle Power (MP) were excited about the outcomes too. So after DTX was over for another year, we sat down for a chat and here's what they had to say about the experience — a special insight into DTX 2019.
What is DTX?
MP – Groundswell is a festival that is all about promoting and cultivating innovation in the Bay of Plenty. And the Design Thinking Xperiment is a great way to do this. It's basically a two-week program where teams learn to apply design thinking on a 'project'. It's an opportunity for people to put aside the time and go through the design thinking process in practical way, rather than just learn the theory.
KS – This year, there was a mix of business teams who came armed with their own design challenges to work on and individuals who got to work together on community-based challenges.
How has your day to day life at Locus Research prepared you for coaching at the DTX?
MP – At Locus we apply in some way or another, design thinking every day. It's ingrained in the way we operate. The work we do is all about getting to the heart of a problem, deeply understanding customer needs and coming up with a solution. It's not easy. In fact, it can be quite challenging and messy and that's what the teams on DTX got a taste of. I guess familiarity with the fuzzy prepared us to help teams navigate through this.
KS – Michelle's right. The nature of design thinking is challenging, no matter how often you do it. That's the beauty of the process! For the teams, there is a big difference between learning about the theory and practically doing it and having to apply the steps. It was awesome to be able to help them through learn the ropes.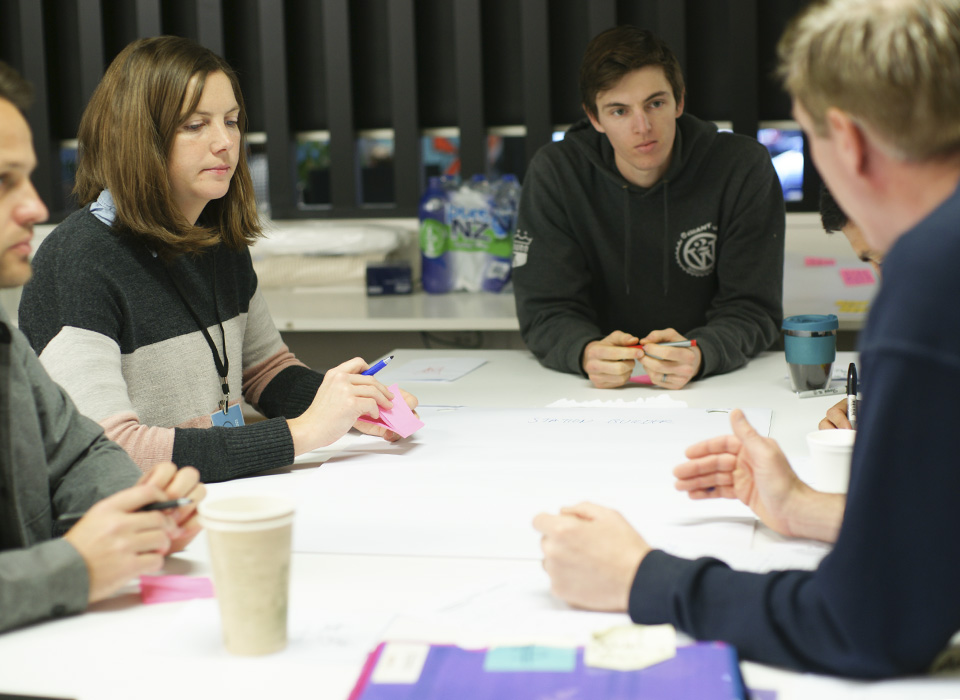 What sort of teams participated?
MP – Design thinking has become such a buzz word these days. Rightly so, because it can be applied to any challenge. At DTX it was great to see such a mix of people. We had the full spectrum; from individuals where this was their first experience of design thinking, to teams arriving from companies that are well versed in innovation. One person went as far as saying that DTX changed her life based on what she learnt from the empathy phase – it changed her way of thinking.
With the program on such a tight time frame, would you call it a good introduction to design thinking? Were there any surprises?
MP – ABSOLUTELY. Reading a book is a great start, but it's not until you get to experience something first hand that the learning is really solidified. The tight timeline forced people to get out of their comfort zone asap. This is where the magic happens.
KS – Yes, it reinforced that design thinking really helps to outline the problem you are trying to solve clearly. It's such a powerful way of ensuring your design outcomes meet the needs of 'users' and of getting a team of people on the 'same page'. And then the power of people working together – that's ALWAYS exciting!
What was the biggest disruption you and your teams experienced?
MP – The biggest disruption was empathy research results that proved the idea they had come in with wasn't appropriate to continue with. It caused a significant pivot, but also saved significant development costs on something that would not have proved successful.
KS – For my team, it highlighted how they all, without realising it, had a slightly different take on what the problem was coming into the experiment. Just in words they thought they had it clear. But it wasn't until we added insights from the empathy research and we really started to use the process to define what it was they were trying to solve, we got clarity.
MP – The beauty of applying design thinking is it removes the risk of making decisions based on gut feel and personal assumptions. You have to go and talk to your customers and do the empathy research and that gives you validation into whether you are trying to solve a real problem or not. It also quickly flushes out those ideas that you need to let go of.
KS – That was the key thing for your team Michelle – throwing that original idea away.
MP – Totally, it was an idea they were quite enthused about, but through removing bias and talking to people in user interviews they made their decision to abandon the project with confidence.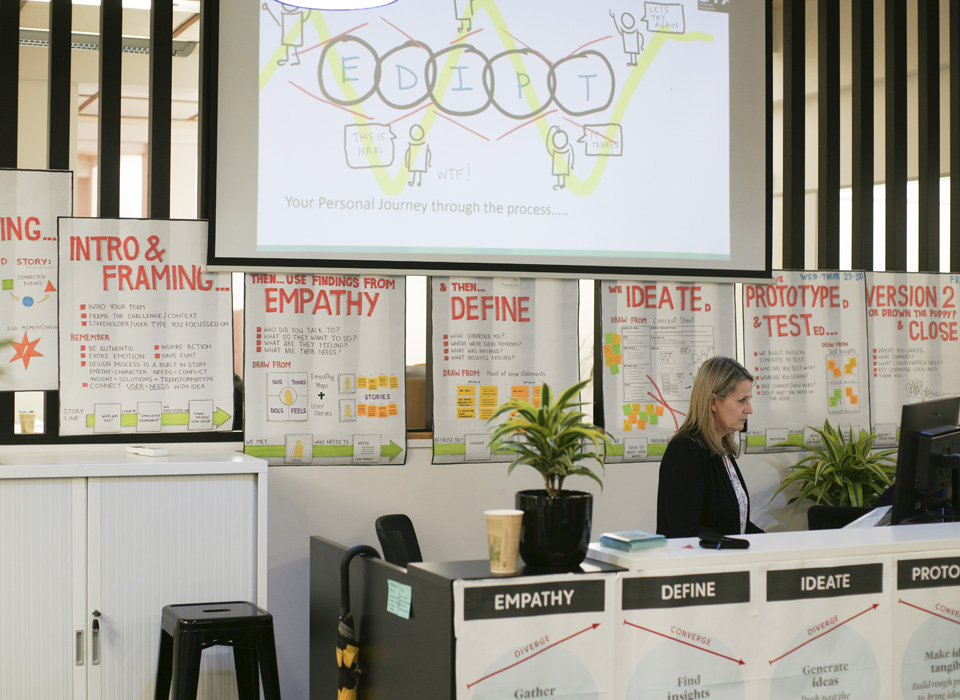 Sounds like there was a lot of learning. Is there another measure of success you were able to achieve?
MP – The real world application for the teams as well as the level of storytelling. Pin pointing key moments in a journey is an important part of effective communication and bringing people along the development journey. The other thing worth noting too is showing that you can validate your position or an idea early in the process with confidence and that it's OK to park an idea when you have the evidence, you've done the research. As they say; fail fast! A small amount of money up front can save a lot of money downstream.
KS – And the best thing is everyone seemed keen and willing to take their learning back into the workplace after dipping their toes in the water. Post-it note sales in the Bay could go through the roof!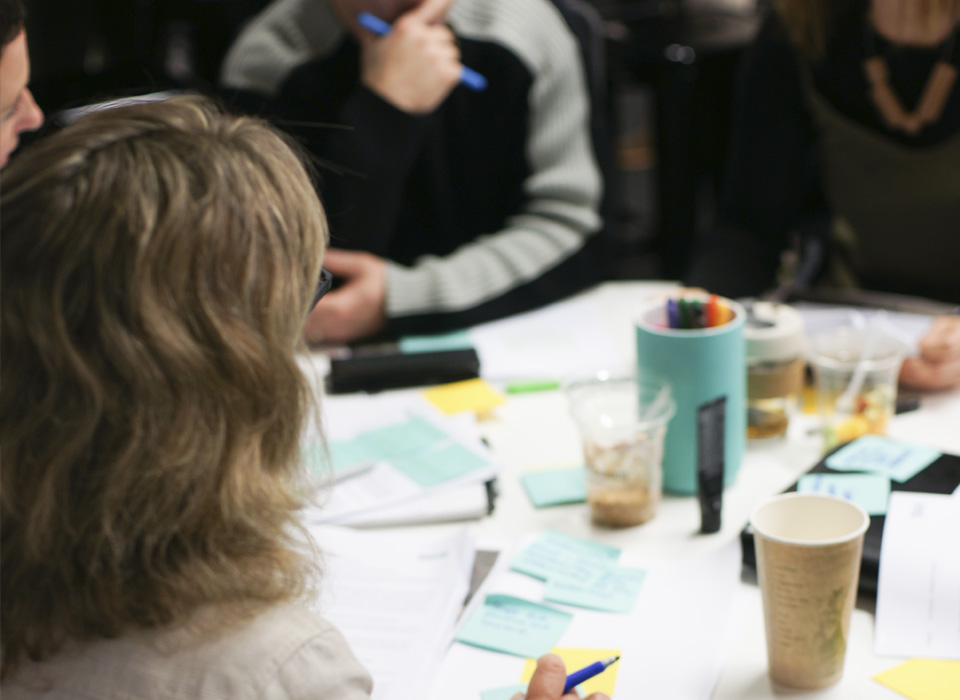 Finally, can you recall a favourite quote from DTX?
MP – "Drown the puppy." – sometimes you have just got to park an idea, it's important not to be too attached.
KS – Not a quote, but the experience of having to stare into the eyes of a stranger for a minute!
—
It was a real treat to be at the final presentations for DTX. Innovation can happen anywhere and by anyone with an open mind and a commitment to approaching a problem with empathy and research.
Here at Locus Research we are a cross-functional team with a shared love for breaking boundaries. We live and breathe creativity, innovation, and research-driven work. Keep an eye out for Groundswell 2020 and other DTX events. If you'd like us to come into your business or event simply get in touch.