Adventures in Field Research: travel tips for explorers
We recently had the pleasure of completing a worldwide field research tour for one of our clients. It took us across 4 different continents, through numerous time zones, experiencing many different cities, climates, and cultures.
Although travelling and field research is not new to us, we are continually learning and refining our skills. In case you are considering some (intercontinental) field research yourself, here are some tips to help you along.
Preparing yourself
Do your homework
We are all about on-the-go and free flowing unexpected adventures, but preparation is key. Knowing your destination, interviewees and background from a historical and cultural point of view will help you enter the conversation confidently. It shows you care — but make sure you leave your assumptions behind. Field Research is about being open and being ready for surprises. Trust us, it is the fun part!
What tech to bring?
Phone: your universal research tool
If you could only take one thing with you, take your smartphone! These astounding little devices are an amazing field-research toolkit, capturing photos, videos, audio and notes, and saving them through with a minimum of fuss. Best of all, it'll fit in your back pocket!
Be aware of your battery levels and take any opportunity you can to charge your device. Many taxis and Ubers today will offer you a micro USB or lightning cable and that extra 10% of charge can make all the difference. Portable backup batteries are useful but are sometimes difficult to get on a flight.
Camera: Small and fast
In many cases, you can get away with your mobile phone camera, but don't underestimate the power of a good quality photo. This doesn't mean carrying around your full kit of photo gear. A good camera body (micro 4/3rd is our preferred choice these days, due to the amazing form factor/size) and a good lens that covers wide angle and zoom in one. Think 14-60 mm (28-120 mm full frame equivalent) or even bigger 14-100. The most important thing is to keep everything compact, lightweight and easy to handle. You want to stay nimble and unobtrusive.
Laptop or Tablet:
Lightweight is key. You won't need an optical drive or 17 inches of screen when you're in the field! Consider touchscreen and stylus for on the go digital note taking and the odd sketch. We have a soft spot for the HP suite of products, thanks to their next-day warranty. However, the Microsoft surface line is fast becoming a favourite.
The one thing these have in common is a light and simple form factor. Computing horsepower is not the priority here. We'd rather trade speed for better battery life. This laptop is your tool for downloading and saving notes.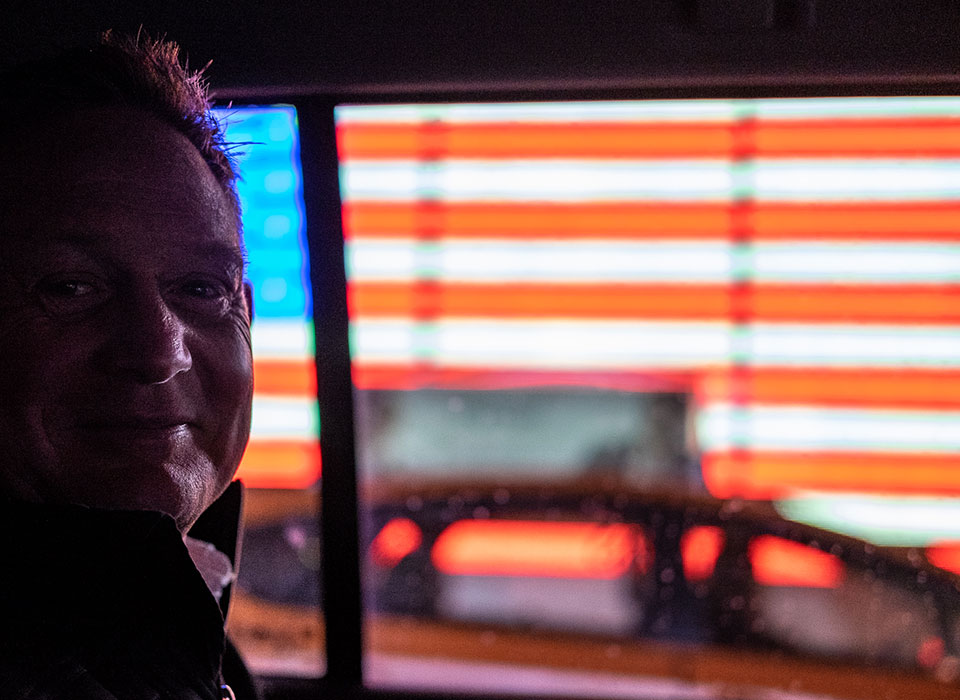 On the road
Long haul flights? Compression socks!
It doesn't matter if you feel like a granny on tour, having compression socks on long-haul flights can give you much-needed relief. Combine this with stretches, lots of water (with electrolytes if you like) and movement during the flight and you'll be walking off the plane like a spring chicken.
Layers — the trusty merino
If you are travelling through different time zones and climates and you don't want to lug around your entire wardrobe, go with layers. We like to travel with some nice quality Icebreaker merinos, which will keep you comfy at all times and will keep you looking decent in a meeting as well.
Don't forget emergency snacks
Things don't always go according to plan. Meetings can run long, for all the right reasons, and you will find yourself rushing to the next one. Skipping lunch is the worst, but it happens! Having some energy bars at hand can be a lifesaver. You need to bring your A-game and nobody performs well with low blood sugar.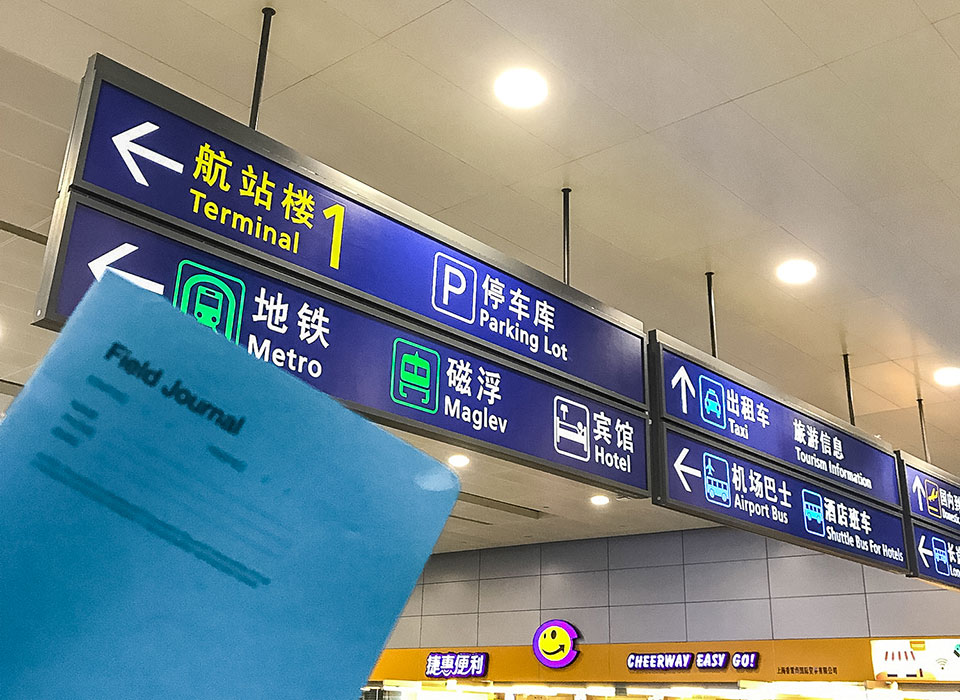 In the Field
Taking note
We always recommend you go into the field as a team of at least two people. It is especially helpful when interviewing on the go. The simple rule is when one team member asks the questionS, the other one takes the notes, and vice versa. This will keep the conversation smooth and allows the interviewer to focus on the answer rather than focus on writing it down. On that note, make sure you carry the right size notebook that easily fits in your pocket or bag. We even have gone so far to design our own 😉
Transcript on the go!
Nothing's worse than coming back exhausted after a trip and realising that you still have to do a ton of transcripts on arrival. The best thing is to recap and process as soon as possible after the field research. The good news is that this can be done at any location, including a nice pub or bar. This way you celebrate your successes while you document it.
TIP: you can organise your findings in a quadrant: observations, tensions, surprises and key quotes – which are fun and great ways of getting the message across. Any opportunities you come up with should be logged against the findings straight away, but remember this is not a requirement of transcription.
Change your context and recharge
You can easily get overwhelmed and too embedded in the subject matter. Give your body and mind breaks on a regular interval. Go for a nice long walk, find nature, hit the gym, soak up some local culture, and find yourself with a smile on your face. Anything to get your mind working differently. And please, don't get sucked into other work. Resetting is as important as the job itself.
On return
The download
Because you have been transcribing on the go, the download predominantly involves any follow-up emails and making sure you get all your imagery in the right place. This is also a great moment to explore your first initial thoughts with your team and share some war stories!
Check out some of our international travel snaps above!
The analysis
The next phase of the project is where you try and make sense of it all, analysing your findings and turning them into insights and opportunities. This is best done in collaboration, so block out some time for workshops — whiteboards, lots of post-it notes, and your transcripts at hand. The sheer quantity of gathered information might seem overwhelming at first, but you will soon find common themes that will lead to insights, give you the answers to your questions, and drive your project forward.
Hopefully, some of the tips above will make this process a bit easier. We also have some great resources available if you would like to learn more. We are also always happy to have a chat about field research and all that surrounds it, just get in touch.
---
Want to read more on creativity, design, product development and innovation? Go to our Six Lenses Blog.