Innovator Insights:
Mr & Mrs Paper Plane
Welcome to our new blog series where we chat with people in the NZ design space who are doing rad things.
We're kicking things off by catching up with Furniture Designer, Timothy John and Spatial Designer, Krista Plews; founders of the Paper Plane store located in Mount Maunganui.
Inspired by the art of furniture, Timothy John made his mark with an approach to design that is very hands-on and governed by imagination. Earlier works involved the exploration of innovative techniques and the full potentials of materials. Timothy John Furniture Design has exhibited pieces at the likes of Urbis Design Day, Design 55 and the Su Nero Nero Exhibition in Italy.
For Tim and Krista, navigating the intricate design industry alone in the early days proved to be one of their biggest challenges. Now as curators of quality functional goods, they use their own insights and the credibility of the Paper Plane store to provide a platform for other designers to leverage off. Independent creators that are featured through the Paper Plane store gain exposure and reputation. The store is a passion project for Tim and Krista where they help fellow designers realise their dreams. This passion and drive shined through in the interview below.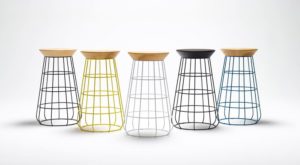 Describe what you do in one sentence?
K: We're curators of quality functional goods; who focus more on independent creators who are doing interesting things and link them to the public.
T: We help designers realise their dreams, because having a great product is only one piece of the puzzle.
What was one of your biggest challenges in the early days and how did you overcome it?
T&K: Learning about retailers and how to navigate the industry at the start. Ok we have a product, but how do we take it to market? Unless we were somebody, nobody in NZ would look at our designs. We overcame this by targeting the European market first. As NZ designers, we were exotic in Europe. Once we gained exposure over there this translated to credibility in NZ and things gained a lot of traction.
How did you get to where you are today?
T: Passion. When you're driven by doing something you love, you just figure out the rest.
K: By being totally open to a natural evolution for our business. We didn't plan for the store to be what it is now. We let the market dictate what we do. We have let the store evolve naturally from a purist design store to more of a lifestyle boutique.
What does a work day look like for you?
K: I spend the morning working from the peace and quiet of home. It's mostly on marketing and business development. Then in the afternoon I head into the store to help out where I can on administrative stuff.
T: Usually it's out for a fish, or a surf, or I head up the mount before 9am. Then I head into the store where my role is really varied – logistics, operations, dispatch, stock management etc. We could pay someone to do this, but I like to physically be there observing how things work. This give me ideas for improvement and I can be the in-store face. People do like to see the owner there and it helps keep a family dynamic with the team.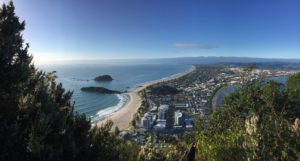 You have been previous winners of the Excellence in Sustainable Business Practices award at the Tauranga Business Awards; what does sustainability mean to you?
T: Longevity in products. Good design. People get hung up on what a product is made from alone rather than how long it lasts. Sustainable is something that lasts and is not just trend based.
K: When I think of sustainability there are many things that come to mind. Sustainability can be in relation to environment, economics, our impact on our community. Environmental sustainability is about buying less but buying well. Buying products that last a lifetime and are not so trend focused. If we are timeless in what we sell it will also make us more timeless as a business.
>> In retail I know a lot of product arrives in plastic packaging, how are you dealing with this?
T&K: We are trying to send messages up the food chain about product arriving in plastic. Hopefully through putting pressure on our suppliers it will make it up the food chain. Although product that gets damaged and cannot be sold is not sustainable. Our local small brands don't use plastic. One supplier is using compostable packaging and has a take-back program where we can return the packaging to be commercially composted.
What does success mean to you?
T: Lifestyle. Doing something we love every day.
K: Lifestyle is the big one. It's enabled by making a profit in the business. A key contributor to success is being open and humble – constantly learning and listening.
What do you do to get in the creative zone?
K: Live life. The worst thing for killing the creative buzz is working too much. Travel provides a lot of creative inspiration.
T: Travel for sure. After we came back from Japan we completely reworked the store. All the plans, ideas and inspiration for that happened in Japan while we were walking in the streets.
What's something that's on your bucket list?
K: Have the work-life balance perfected. Experience living in Copenhagen for a few weeks. We don't really have many specific goals as such. We don't want to get in our own way.
T: Create something else. I really enjoy the process of taking an idea an developing it into a successful project/business.
What are 3 of your favourite possessions?
K:
– Parallel Chair by Simon James (see here)
– 150 year old Steinweg piano that was lovingly restored by a sweet elderly man in his retirement
– Vintage penguin from Vitrine, that Tim got me for Christmas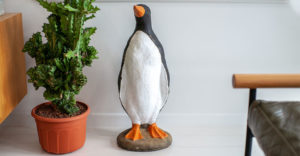 T:
– Ottoman Table – it's actually made out of an old leather gym mat from France that is stuffed with hay
– The Optimist and Pessimist hand woven industrial felt pendant lights from my woven series – it's great to finally have the space to display them in our home (see here for the full series)
– Ripple Fisher Japanese fishing rod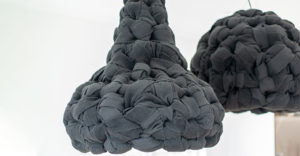 What are you reading, listening or watching of late?
T&K: We're listening to this podcast series called Business Wars. It talks about businesses at war like Pepsi vs. Coca-Cola. It documents the birth of these companies, how they have developed, and what drives these companies and their leaders.
Who do you have a design crush on?
K: Other than Timothy John?! Simon James. His work is timeless but unique.
T: Nat Cheshire – he's responsible for fitting out most of Britomart and inventing the City Works Depot. I highly recommend watching his talk from Semi Permanent. (See here)
What's one life hack?
K: Have an attitude of gratitude towards everything. I grew up in a retail environment and Dad taught us to say thank-you to the staff when they left every day. It's not much to say thank you, but it means a lot. It was an important lesson to have gratitude in every experience.
T: Work/life balance. You can't do something well if you are totally immersed in it. You have to get away to see something clearly.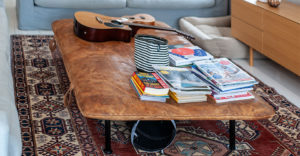 ---
Want to read more on creativity, design, product development and innovation? Go to our Six Lenses Blog.