Ubco | 3 Wise Men collaboration
When two brands collaborate with our help, the result is a beautifully executed collection offering unlimited promotional opportunities. The collection captures the spirit of each brand with a special Locus twist.
BEING INSPIRED
3 Wise Men started their journey in 2004, with the ambition to provide quality fashionable gear at affordable prices, keeping it simple, striving to be ethical, and only working with Good Buggers – or as they call it: the GBR – Good Bugger Rule. They (literally) go the extra mile on everything – and it was an easy sell/decision when they came knocking on UBCO's door for a collaboration.
They were inspired by the UBCO 2×2 and decided to create a capsule collection to match – and UBCO decided to return the favour and match a bike to their collection.
Locus knows UBCO inside and out and we never shy away from a good collaboration. We helped bring the collaboration to life with:
Bike Design
Sourcing & Assembly
EXPERTISE
Product Design
Brand Identity
Graphic Design
Prototyping
Manufacturing
3 Wise Men saw the bike and the imagined capsule collection as a great opportunity to introduce a more casual line to their existing portfolio. More outdoorsy and on the go to complement their quality fashionable gear.
To kick things off we came up with three possible routes to match with different colour schemes, materials, details, and finishes. At this point we hadn't seen any of the 3 Wise Men development work, but clearly we were thinking along the same lines as one of the concepts perfectly matched the garments that were under development.
This made the choice easy, and we further developed the Midnight concept into a more detailed version taking inspiration from the garments – like the leather and cross-stitch on the seat and brass details.
JOINING FORCES
The team at 3 Wise Men wanted to have a unique identity for the capsule collection that both honoured their brand as well as UBCO's. We created this by taking the most iconic parts of both logomarks and stacking them – championing both the 3, of 3 Wise Men, and the "crown" of the UBCO logo. The result is a well-balanced mark that is easily placed on garment labels, swing tags, buttons, and equally works on the bike itself.
We completed the full suite by developing out all needed garment labels, tags, product details (like embossing) and a horizontal logo version for communication purposes.
The "move beautifully" tagline was created by the 3 Wise Men copywriter, and completed the story perfectly. The identity is unmistakably 3 Wise Men as well as UBCO.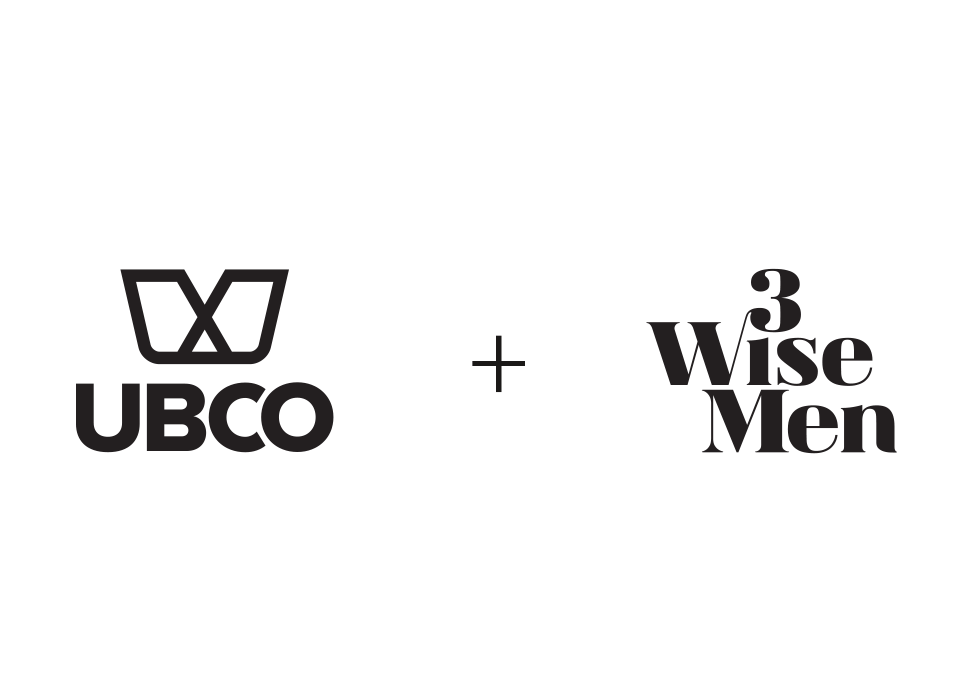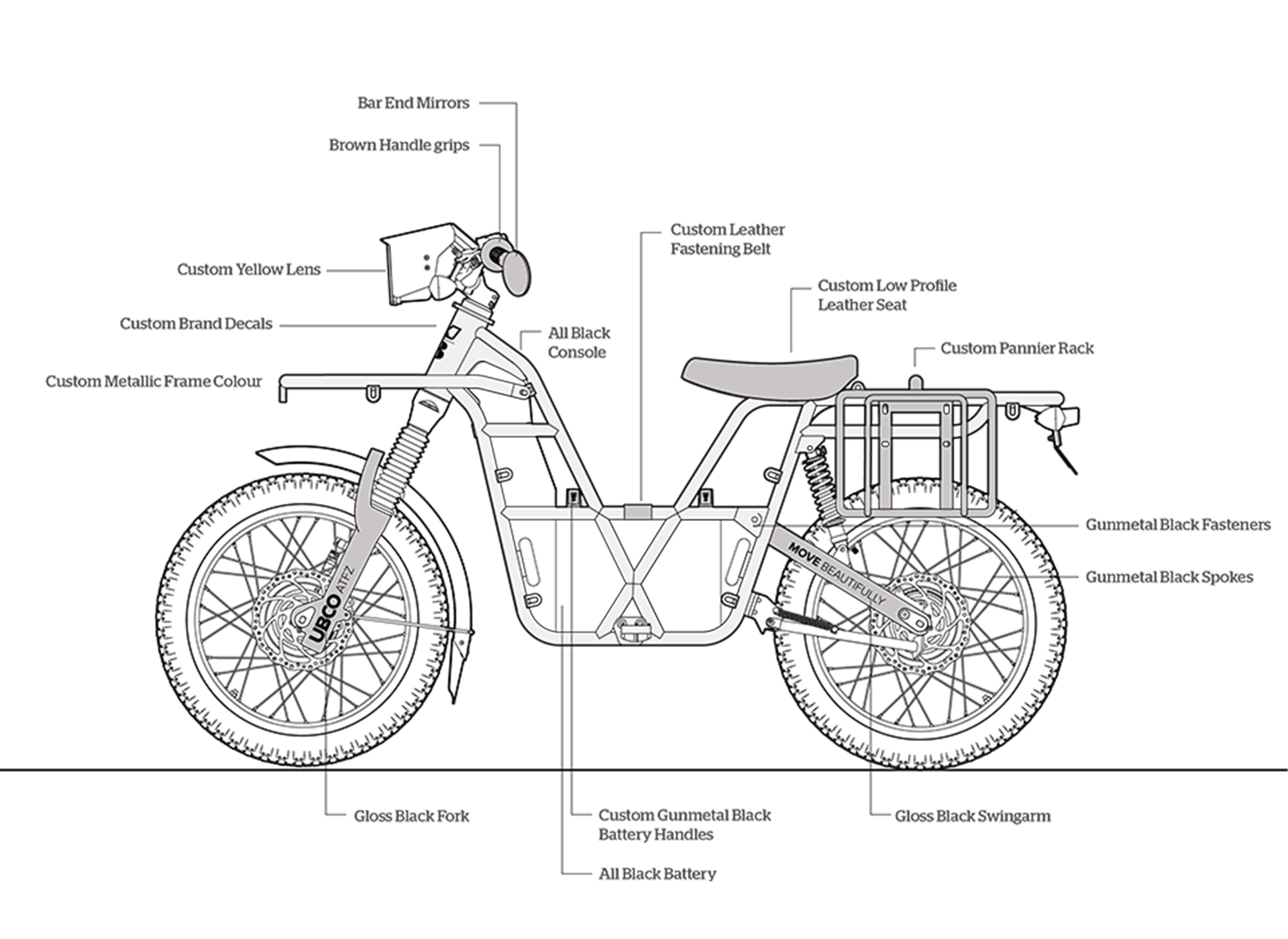 INTO REALITY
Taking it from concept to reality is something we thrive on – and with the release date looming we pulled together our network, alongside UBCO's, to establish a full supply chain.
We identified 8 main design changes on the bike. The paint, grips, mirrors, fasteners, and spokes were completely overhauled. We designed new custom parts for the lens, battery handles, seat, battery belt, pannier rack and decals.
The result is a beautifully executed, quality piece that truly captures the spirit of UBCO and 3 Wise Men.
A big shout out is owed to some of the amazing suppliers we worked with, not only for delivering quality stuff, but also for delivering on a very compressed timeline.
"It is awesome to see the bike design and the capsule collection come to life. The bike design and the collection of gear respect the roots of each of the brands but at the same time gave us both permission to push quite a few boundaries. You have to love working on brands where like-minded people share a vision. The development journey is fast and relatively seamless and the results speak for themselves. Move beautifully!"
– RICHARD MILES, FOUNDER, 3 WISE MEN LTD
MEDIA & HIGHLIGHTS
3 Wise Men Release
Kia Ora Magazine